In the spring, I have counted 136 different kinds of weather inside of 24 hours.

—Mark Twain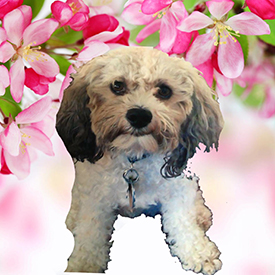 Duff here. Today, it feels like Springtime! The Trees are forming very small Buds, and there is a Feeling of Anticipation in the Air. Something good is about to Come. The morning Breezes are Soft, getting warmer and Warmer. There are Bunnies darting across My path (if Mom would only let Me off My leash!) and Birds are sleepily chirping. All is well. Living unstuck.
But Mom told Me a Very Upsetting Something today. Mother Nature tricked Me. The Forecast for the Week includes a massive Snowstorm. Four to Six inches of the white stuff is expected, along with Single Digit temperatures. That's cold for My tootsies. As much as I love My Winter Wonderland, it's a bit confusing for Me at Times. I think Mark Twain has the right perspective. Living unstuck.
How about You? Do You roll with the Tide when Weather abruptly changes? Or do You complain a little (or a Lot) about having the Dream of warmth snatched away? I say: Every day is an adventure. Mom opens the Door, and there are new Sights to See. New Places to explore. New People to meet. Come join Me, and We'll have the best time Ever. Living unstuck. #unstuck-liivng#spring-weather