There are only two kinds of people in the world;
The Irish and those who wish they were.

—www.kinneychase.com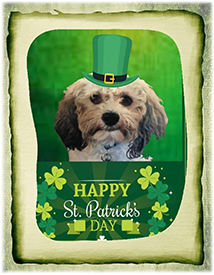 Duff here. Bet You didn't know there are Rules to go by on St. Patty's Day… Just so You don't get on the wrong side of the Irish, www.relatably.com and I want to share Them with You. The Irish always make the rules.
The Irish may change the rules anytime, without so much as a "top of the mornin'" to you.
Kissing the Blarney Stone and eating Lucky Charms cereal will not make you Irish.
Only the Irish may live the life of Reilly, given his express written consent.
If you mess with the Irish, you will be haunted by Murphy's Law for the rest of your life. (That would be Something Dreadful I wouldn't want to happen to Anyone.)
I say: May the luck of the Irish be with You. Green shamrocks all the way. Happy St. Patrick's Day! And live unstuck. #unstuck-living#wearing-of-the-green