You can't buy happiness. But you can buy chocolate.
And that's kind of the same thing.

—Tashalou81@wordpress.com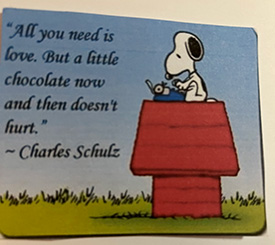 Duff here. Heart Day is fast approaching. I see Roses in each and every Store. Cards featuring Hearts are everywhere. People are walking around with Stars in Their Eyes and Smiles on Their Faces. If I watch carefully, there's even a bounce in Their Steps. Almost as if They were walking on Air. Living unstuck.
Personally, I think My Friend Snoopy has it just right. Love is the Name of the Game. But a Smidge of Chocolate never hurts. And there are so Many Brands on the Market! Godiva. See's. Hershey's. Lindt Truffles. A Friend gave Mom a bar of Elegant Choceur Dark Chocolate. (She has been saving it for a Special Day, and I think that time is coming soon.) Mom gives Me special treats, but No Chocolate. She says it's just for Her. Hmmm . . . Living unstuck.
How about You? Do You indulge in Chocolate every now and Again? Or are You a Straight and Narrow Type of Person? I say: Drop Your inhibitions and have a Taste on Valentine's Day! You can even claim, "Cupid made Me do It!" Living unstuck. #unstuck-living#valentine-day-prep