Unexpected Gifts While in the Hallway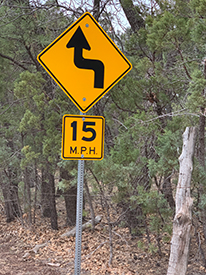 On my daily walk, I notice a sign. "Slow Down, 15." A sharp turn in the road ahead. And I got to thinking: that sign describes my life right now. In mid-March, the world as I knew it slowed down and came to a standstill. The Stay-At-Home order was in place. Restaurant seating shut down. Take out only. Traffic on the road dwindled to nothing. Face masks began to pop up, and gradually became more popular. The grocery stores eventually became one-way avenues, as we all stay six feet apart. No stopping to chit chat or schmooze.
At first, The Duff and I spent more time at home. And I felt like a Roomba. You know, that handy gizmo that cleans your floors? Bouncing off one wall, gliding to the next. No particular destination until it docks to recharge. I felt I had no purpose, no meaning. And I got cranky. Downright irritable.
But after a time, I began to shift my perspective. I remembered the old saying, "When one door closes, another one opens." But I have always maintained there's a hallway in between. When I was moving from one job to the next, there was a waiting time. A period of do-nothingness as I shifted gears. A new mother waiting to give birth feels the same way. As does a young 'un waiting to get their learner's permit to drive. The hallway can seem to be endless.
But there are unexpected gifts from this waiting period. More time to relax. Time to clear out closets and storage units. A space to learn new technology. To become more clear about what I want from life. To reevaluate my lifestyle and pare down overwork and stress. To dream new dreams.
All very well and good, but I had to get past the anxiety ridden "I've-gotta-do-this" mindset. Okay, there were days in the hallway when I was highly productive. where I would wake up and go for a walk. When I got home, I was majorly productive. And then, there were days I didn't feel like doing anything. And I didn't. I rode the wave. The Duff and I sat. And enjoyed the sunsets. Or took a nap. (We're good at that.)
But my guilt of "not doing" could be overwhelming. And we all know beating ourselves up does no good. So, here is some of what I do while in the hallway:
Make a schedule. We human beings need to have a reason for getting up in the morning. For me, a schedule also brings balance. I write my list down. One less thing to remember in this surreal world.
Have a little compassion for yourself. The world changed quickly, and your mind is still working to catch up. And that can be exhausting. Take a deep breath and just be. Self-kindness is life giving.
Check in with friends and family. I don't know about you, but lonely can get to me after a while. Easy solution: connect with others. I recently called a friend I had not seen for 15 years. And yes, we burned up the phone lines.
Become comfortable with not knowing. When will the quarantine lift? Is mom okay? When can I go to the park? Learn to be at ease with "I am unsure."
Get outdoors. Mother Nature has such healing energy. The wonder of spring is all around. Delight in this new season.
Take this time to enjoy these unexpected gifts. Live unstuck.