The Possibilities of Spring
Nothing ever seems impossible in spring, you know.

—L.M. Montgomery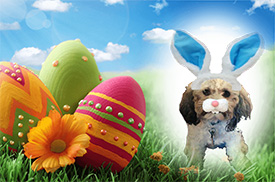 Duff here. Spring is here! Here on the Mountain, buds are beginning to peek out. Mom and I heard from Friends in the Carolinas that Azaleas have already come and gone, leaving room for new Blossoms and Growth of all Sorts. Nothing is Impossible, and I'm on the hunt for New Scents and Fragrances. Living unstuck.
Easter is coming Soon. A Little Girl came by to show off Her Beautiful Easter Attire. What a Happy Smile. Not only did She have on a lacy Dress, but She had new Shoes and a Bonnet also. To complete the Outfit? A Tiny Purse! It was quite empty, so We had to Give Her a Quarter to Put inside of It for Luck and Good Wishes. Living unstuck.
Mom and I wish You a Happy Easter and Delightful Spring. Happy Passover to Our Jewish Friends. Chag Sameach!
Tail Wags and Happy Greetings,
The Duff and His Mom