The Invitation for a Walk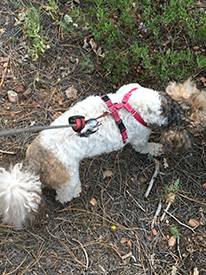 Duff here. As a Canine, I have found that Walks are wonderful activities. Mom and I have had many of these Escapades, always enjoying and having fun. I find so much to investigate and Explore. Never a dull moment and unusually intriguing. Mom has even gotten into the Swing of Things, finding Special Treasures and Small coins. Something about a Penny that brings Her luck? Living unstuck.
We Canines have specific Ways of Letting Our Owners know when It's Time to ramble about. I sit and Stare at Mom, which usually works. Sometimes a Bark is needed to get Her going. But Uncle Roscoe had Special Running Shoes. They were Red . . . and flashy. When He laced Them up? Everyone knew It was time for a fast sashay in the Out-of-Doors. Living unstuck.
How about You? Do You have a Special Way of Going for a Walk? Or do You simply Saunter about? I say: Go for It! You can choose fancy footwear. Or good old Boots like Mom. Either way, You'll enjoy the Great Outdoors. Even better with a Pooch by Your side, I'd say. Living unstuck. #unstuck-living#walks
Ever wonder where you'd end up if you took your dog for a walk and never once pulled back on the leash?

—Robert Breault