Expect to have hope rekindled.
Expect your prayers to be answered in wondrous ways.
The dry seasons in life do not last.
The spring rains will come again.

—Sarah Ban Breathnacht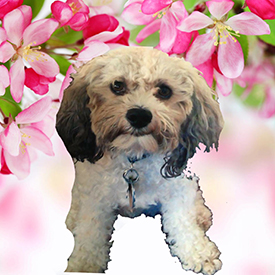 Duff here. Spring is on the Way! I am so very excited. New scents. New sounds. Warmer temperatures. And You and I both know: I'm only dreaming of this time, for it's still a little Cool in My Part of the World. It was about 30 degrees at 5:00 a.m. when Mom and I sashayed out for My morning walk. But then She leaves for Her Personal Morning Walkabout. Always six feet away from anyone else, for there is no One there. No people. No cars. No critters, except for the Geese and Ducks in the Pond. Peaceful. Serene. Living unstuck.
I don't know about You, but I live in Hope for a Lot of things. A suitable dinner. (Or breakfast.) Being with Mom. Playing with other Pups. Running and skipping. A warm bed at Night. Many loving pats from Mom. Little girls in My Area who think I'm wonderful. Some who Greet Me as a Celebrity by honking Their horns as They go By. Living unstuck at its best.
How about You? Do You live in Hope? Or is This a Tough Time? Let Me sprinkle some Duff Happiness Your way. Tickling Your Heart. Warming Your Soul. Offering protection and Comfort. Cuddling over the Miles. I say: Live in Hope with Mom and Me. We're open for Online Friends like You. Feel the happiness. Live unstuck. #unstuck-living#the-hope-of-spring