A fallen leaf is nothing more than a summer's wave goodbye.

—Unknown
White Mountain Women's Club newsletter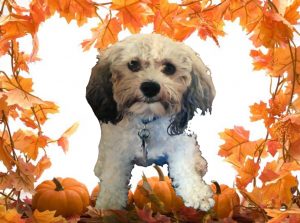 Duff here. Fall is a fun Season for Me. Leaves begin to turn color. The Yellows. The oranges. The Reds. Some leaves are spiraling Down to the ground. And that's where I do My Specialty. I pounce. I run fast and land in the Middle of the Pile. I nose about to see what Might be under these crunchy Pieces of Trees. (I never know.) So curious! Living unstuck.
Autumn is also a signal for Longer Walks. Its cooler, and My Fur is great insulation. So off We go. Unless Mom's running late for Work (sigh), She's usually game for the Extended Saunters. Down the Steep Hill. Then to the right, to the Trees and other Dogs. Or the Left to Rick and Sonya, My Friendly Neighbors who think I'm wonderful. (Shows Their good taste.) Either way I win! Fall is here. Living unstuck.
How about You? Are You enjoying the Fall weather? Or does it Slow You down? I say: Follow My lead. Jump into that Pile of Leaves. Stretch You legs and take that Longer walk. Have that cup of Hot Cider with a touch of Cinnamon. Fall is on its way! Living unstuck. #unstuck-living#autumn