"Shana Tova!" Happy New Year! Rosh Hashanah

—A traditional greeting for the New Year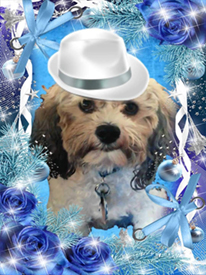 Duff here. Today is the day for Great Celebration (and subtle Trepidation) in the Jewish calendar. And I want to share a little of what Mom and I found out about the High Holy Days with You.
Unlike modern New Year's celebrations, which are often Rambunctious Affairs, Rosh Hashanah is a subdued and contemplative Holiday. It is a day to celebrate Creation, but also a day for Accounting and judgment for One's Actions. Intentions are important as Choices made over the last Year are reviewed. That's living unstuck.
Now, down to the Food. You know I'm a Chow Hound, and I'm reveling in the spread. Let's start with Apples dipped in Honey, sometimes after a special Prayer. According to tradition, Apples have healing Properties and honey symbolizes the hope of a Sweet Year to come. Round Challah, the traditional braided bread, symbolizes the Cyclical nature of Life. And the Tashlich Ceremony is when Sins are symbolically cast off by throwing Pieces of Bread into a body of Flowing Water.
Wishing one and all of Our Friends in the Jewish Community "Shana tova!" Happy New Year! Live unstuck. #unstuck-living#Rosh-Hashanah