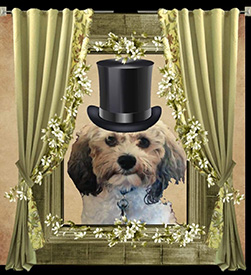 Duff here. Last week, Mom and I traveled to the Arts Alliance for Their Cork & Canvas extravaganza. Such a wonderful gathering of People. (As They don't know what to do with Canines, I stayed in the Car. And slept. Such a lovely Nap!) In the meantime, Mom was getting Her fill of the Little Big Band songs and sound. This grouping of Qualified Instrumentalists was playing Wonderful Tunes from the Old Days. Living unstuck.
The Singers were Outstanding! The Man had a very melodious Voice, and the Lady? Not only sang, but tap danced. And whistled during Sweet Georgia Brown. All the Old Favorites were rolling out. "My Funny Valentine." "It Had to Be You." "Night and Day." "You Made Me Love You." The advantage Mom has? She knows enough of the Words to hum along. Then serenade Me as We drove home, to a "Starlight Melody." (We were both glad Mom wasn't up on stage singing. Oh my!) Living unstuck.
How about You? Are You a fan of Older Songs when You can understand the Words? Or do You like whatever Your Fancy strikes? I say: Music is what You want it to Be. Go back in Time, and You can find Anything You'd like. Myself, I prefer Bobby McFerrin. "Don't Worry, Be Happy." Living unstuck.
I'm always inspired by things like old Cole Porter songs or even Stephen Sondheim where there's a real craft to them. But it isn't only that you're hearing the words, it's that it links so well with the music.

—Ron Mael