If your dog is fat, you aren't getting enough exercise.

—Pinterest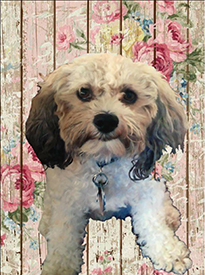 Duff here. Springtime is a favorite season of Mine. Well, to tell You the truth, They are all Pretty Special. But this One seems to stand Out. As You are aware, Mom and I take frequent Walks at Regular Times. Recently, it's been every Hour. Or hour and a half. Sometimes it's a necessity. But other times? Just because. Truly enjoyable for Me. Living unstuck.
We began this Particular Regime because Mom thought I was getting a little Hefty. And what amuses Me? Now I'm walking Mom. Usually, it's the other way around. But not Now. Mom's cell phone pedometer keeps telling Her: You're walking more today than You did Yesterday. Then: You're walking more this Week. And This Month. I'm helping, don't You know? One day, We outdid Ourselves and walked close to 16,000 steps for Mom. (Many more for me, but Let's not go there.) We both tucked into Bed early that night. Pooped out, We were. Living unstuck.
How about You? Are You meandering about? Or cocooned Inside? I say: Stride out with Us. Enjoy the Soft Breezes. The Buds on the trees. The Lilacs and Iris blooms. We won't go too Far. Just enough for You to Revel in the Season. Live unstuck. #unstuck-living#walking-Mom