Drivers get you from Point A to Point B.
Chauffeurs give you an unforgettable experience.

—High Class Algarve Chauffeurs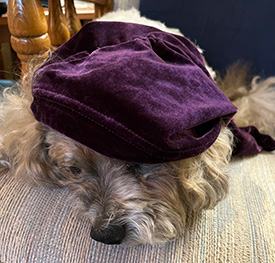 Duff here. Mom and I took a Road Trip last weekend! What that means for Me? Lots of time relaxing in the Passenger Side of the Jeep. I ride Shotgun, and love every minute. It's not Everyone who gets this Favored Position. There are Times I waken and look out the Window. You know I've done this when I leave Doggy Doinks with My Nose. (My form of Canine Art.) As a Pooch, what I see is in colors of gray, brown, Yellow, and Blue. I could see Why Mom was so excited with the Yellow Aspens. Spectacular! Living unstuck.
As We traveled, the sun got higher. And Higher. Mom looked over, and saw Me panting away. She pulled over and took Me out of the Shotgun Position, putting Me in the Back Seat. There I was riding in Comfort and Sophistication in the Shade as Mom drove along. The only Thing missing? Mom's little Chauffeur's hat. It would have completed the Picture and truly set the tone for the Trip. Can You imagine? Living unstuck.
How about You? Are You usually the Driver of Your Vehicle? Or are You a Passenger? I say: Whichever position You're in, do it with Style. I, Myself, have enough Style to carry anything off. But You might need a Small Hat. Or a Bandanna. Or perhaps a Sparkly Barette. Enjoy the Ride. Living unstuck. #unstuck-living#being-chauffeured