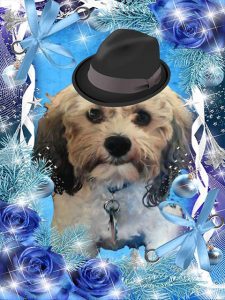 Duff here. I was considering the word Belief, and I had Mom look up the definition. (The Paws aren't so good at the Computer Keyboard.) Here's what We found: Belief is a feeling of Trust in the ability of Someone. I know Mom is able to feed Me. And groom Me every morning. Walk with Me. Play with me. Love Me up. That's living unstuck.
As a Canine, I live in the Present, So what I believe renews Itself every night. And I believe in You, Dear Reader. You have New Days ahead of You. And You too can decide to reset Your Thoughts every Night. I also know the Powerful Qualities You have. Strength. Focus. Determination. Kindness. Self-compassion. Happiness. So much more . . . What will You create by this Time next Year? Who will You be? Of course, You already know I'm with You all the Way. Let's live unstuck.
Mom and I wish You an adventurous and delightful New Year, filled with hope and Promise.
The Duff, Himself
(And His Mom)
#unstuck-living
#I-believe-in-you
Take a leap of faith and begin this wondrous new year by believing.

—Sarah Ban Breathnach