Pets, like their owners, tend to expand a little over the Christmas period.

—Fanny Wright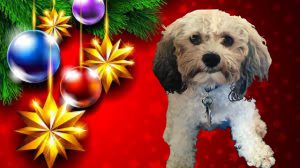 Duff here. I'm still getting past my Thanksgiving gorging. And here comes Christmas, like a Freight Train, bringing more munchies and Goodies. Since I am a True Chow Hound, I'm ready for almost anything. Well, except Green Peas. If served, I carefully take them out of a dish, and line them up Outside of My Bowl. Such a festive Sight! A Friend of Mom's makes her own dog food. And it includes Peas. Thank goodness Mom didn't get the recipe. I would have starved on that regimen. Not living unstuck.
Mom stepped on the scale the other Day. Then took a look at Me, kind of like how the Grinch looked at his Dog, Max, when considering how to make Him a Santa suit. Needless to say, We are walking multiple times a day. And are on semi-reduced rations (drat!) for We are only in the beginning of the Season. Not to worry, for I do have Soulful Eyes, useful to convince Mom that one more bite Isn't going to matter. Living unstuck.
How about You? Are You edging up on Pounds? Or are you slim and Trim? I say: Let loose the Reins over this Season. A little extra Weight isn't going to matter. And Christmas only comes once a Year. Goodwill to all! Living unstuck. #unstuck-living#extra-weight