Scared is what you're feeling. Brave is what you're doing.

—Emma Donoghue, Room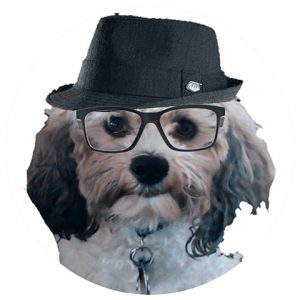 Duff here. There's something about Loud Noises and Flashes of Light. Thunderstorms are back in full Force here on the Mountain. And it's not My Favorite Occasion. I can feel the roll of Sound before It starts to Boom. And I follow a particular Regime to be Brave and ensure Safety. Let Me tell You how I live unstuck.
As background: We were at the Office yesterday, and I felt the Thunder gathering momentum. I slowly got to My Feet, looking Straight ahead. What happened next? I carefully did a Sideways Slink over to Mom's foot. And took a Seat. As I looked up at her, I told Her, "You can pick Me up any Time You want to." She reached down to gather Me up, and then I was Bravely in Her lap. Safe. Secure. She Patted My Back, stoking from My neck to My tail. I relaxed and knew: All was well in My World. Living unstuck.
How about You? During this Time of Turmoil and Change, do you have a Go-To Person? Or are You handling it all on Your Lonesome? I say: Join up with a Trusted Friend. You'll never Regret it. That Person will Warm Your heart and bring You Peace. (You might even return the Favor.) Living unstuck. #unstuck-living#being-brave