A Different Good Night Protocol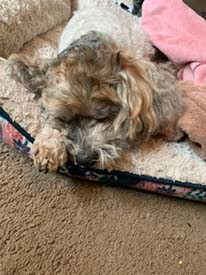 Duff here. About two weeks ago, I decided to Change My sleeping Quarters. Since forever, I have slept in My Carrier. A fine abode, and Wonderful place to Snooze at Times. But I decided to Bed Down in My comfy place in the Living room. Mom is flexible, so off I went. Living unstuck.
However, the Good Night protocol also Changed. After Mom has showered, I sit on the Soft Red rug. She sings to Me as She rubs Me down. Delightful. I then take 3 or 4 steps, and turn to check to see She's behind Me. Then 3 or 4 more, and check again. She is to stop about ten feet away from My Bedding. The first few Times, She didn't get it. She came directly to My new Quarters. I sighed, and led Her back to the Bedroom. Where We did the Entire Process again. (She's kind of slow on the Uptake, but finally caught On.) I'm delighted to report: We're both Happy Campers now. Living unstuck.
How about You? Do You change Things up every Now and again? Or is Your Life the Same Old, Same Old? I say: Liven it up every so often. Even if You have to Train the Other, it's so worth It. Different is Good! And You never know what Will come of It. Living unstuck. #unstuck-living#good-night-protocol
Change begins at the end of your comfort zone.

—Roy T. Bennett