Watch with glittering eyes the whole world because the greatest secrets are always hidden in the most unlikely places. Those who don't believe in magic will never find it.

—Roald Dahl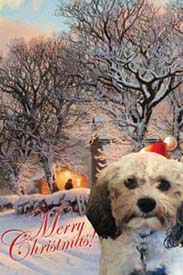 Duff here. The Magic of Christmas has begun. Local stores have had Christmas Trees up for some time. But I think the Air is now charged with the Wonder of the Season. When Mom walks through the candle Section, scents of bayberry and evergreen linger in Her Clothes. I burrow My Nose deep into Her jacket to get the Full Experience. Such a Doggy thing. Living unstuck.
I am getting more treats from My Clients. They have to be Soft, for This Puppy doesn't have many Grinding Teeth left. (Not that it stops Me from munching, mind You.) But the more Mushy, the better. I revel in the Feeling of Christmas, for People are Kinder and more Gentle to each Other. Seeing the World through the Magic Lens of Christmas? Oh, yes! Living unstuck.
How about You? Do You sense the Glitter and Sparkle in the Air? Or do You only see the darkness of Winter? I say: Secrets are best discovered in the Light. Mom turns on Her Flashlight when She walks in the Dark. You can too. Living unstuck. #unstuck-living#early-Christmas