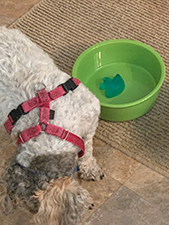 Duff here. I have a Very Sad Story to relate to You. As You know, whenever Mom opens the Refrigerator Door, I am forever Hopeful. I move into Position at the edge of the Kitchen, for Surprises will sometimes fall on The Floor. (Do You think She does that on Purpose?) Or maybe a Treat in My Dish. Living unstuck.
This time, She snookered Me. Tricked me good, She did. I had never before seen Jell-O, but I was game for Food of Any sort. She carefully spooned a bit of Blueberry Quivery Cold Stuff into My bowl. It didn't smell like Much of anything. Frankly, I didn't even give it a Taste. Not worth My Time. I took a Sniff, turned Away, and Sat expectantly In Wait. She had to have Something better. Such a disappointment. We both laughed About that. Well, She chuckled More than I did. Thank goodness Dinner was much more to My Liking. That's living unstuck.
How about You? Have You ever been Let Down by a Situation? Or did it Turn out okay the Second Time around? I say: Patience and Persistence pay off. Change is the Name of the Game. That's what Life is all About. Well, at least Mine is. Living unstuck.
When there is no struggle, there is no strength.

—Oprah Winfrey