When life throws you a rainy day, play in the puddles.

—Winnie the Pooh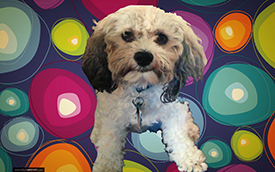 Duff here. Recently, it has been nothing but a series of Rainy Days. I mean lots of Rain. Coming down hard. The rain drops bounce as they land. Yes indeed. It was pounding that hard. Since I am nearer to the Ground, I have an up-close and personal View of this Process. It can be downright Scary. Especially for a Very Small Dog like Me. Living unstuck.
But My main Objection? Getting My Paws wet. I will do anything to avoid having That occur. Mom usually takes pity on Me, and picks Me up. She then diabolically puts Me down on another Wet Spot further down the road. But I got even. Once We were back inside, I thoroughly shook Myself. Nose to Tail . . . water and mud flying all over. (With a special Shower for Mom.) She quickly learned about this Trick, and now holds Me firmly while escorting Me to the Bath Tub. Drat! Living unstuck.
How about You? Do You avoid the Puddles? Or do you revel and party with the Best of Them? I say: Once You get Wet, You might as well live it up. Splash and play. Stomp around a bit. Brings out the Child in You. (Or Puppy!) Living unstuck. #unstuck-living#play-in-the-puddles