Windows down, music up! Kick off your stress and start your engines.

—Louise Meyers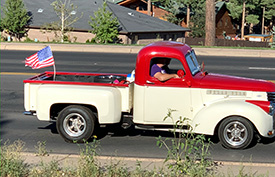 Duff here. It's that Time of Year. The Parade of Cars is happening today! Mom loves to watch these Gorgeous beauties as They roll by. Large ones. Smaller models. Convertibles. Coupes. Trucks. Older models. Newer ones. Gorgeous paint jobs. Some paint jobs in process. And everything in between. There was even a Fire Engine in the Parade one year. Mom was ecstatic! Living unstuck.
Mom brings a Chair and stays close to the Route, cheering Them on. I let Her travel on Her own as I tell Her about My Concerns. First, there are Loud Noises coming from those Engines. The Drivers rev their Motors, and the Sound resonates through My Entire Body. Not unstuck! Next? Candy is sometimes tossed out to the Crowd. It wasn't Doggy Friendly, so Mom kept Me away from the Goodies. So unfair! But then? She pulled a Treat out of her pocket and all was Well. Living unstuck.
How about You? Do you enjoy Car Parades? Or do You let the Fancy Motor Vehicles do Their Thing without You? I say: Be like Mom. Get out and enjoy! You won't know what You missed if You don't. And there's nothing like a Small Town parade to warm Your Heart. Living unstuck. #unstuck-living#parade-of-cars