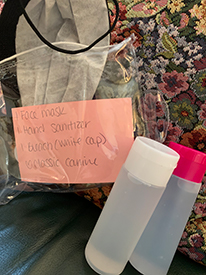 Duff here. Last week, I got My Hairs cut. Grooming is a Wonderful occasion for Me. I am shampooed with Some good Smelling stuff. Then I am Clipped. My Muzzle, so I can see the World. My paws, to stop tracking Mud into our Place. My Body, to reveal My Svelte Self. I feel so good that I Prance and dance about to Show off. Living unstuck.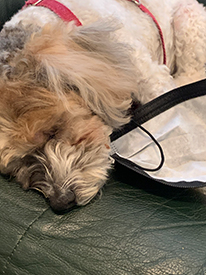 This time was extra Special, for Ashley gave Me a Gift. Contents included a hand sanitizer (good idea for My Paws) and a bottle of bleach for Canines (to Keep My Fur extra white.) But the Big Treasure was a Black Mask. Mom tried it on Me, just for the Fit. And it covered a Lot: From My Nose down through My Chest. But the Ear Loops would not stay put. I'm just not built that Way, I guess. The Intent was much appreciated, and I will keep It in My Special Place where Gifts go. Or gift it to Mom. Thank you.
When the Groomer was informed of the Occurrence, She simply texted, "Silly Duff." And there You have it. Living unstuck.
How about You? Are You the Recipient of Gifts at this Time? (I understand Toilet Paper is a biggie.) Or are You dreaming of Christmas, where gifts are Plentiful? I say: Accept whatever is sent Your Way. Thank you's are in demand at This Time, I'm here to tell you. That's living unstuck. #unstuck-living#gifts
Because of the dog's joyfulness, our own is increased. It is no small gift.

—Mary Oliver
P.S. But I come in a Small Package.
The Duff