I want to inspire people. I want someone to llok at me and say, "Because of you, I didn't give up.

—CauseVox.com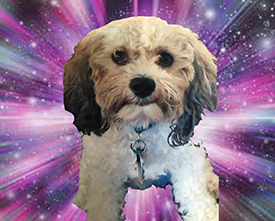 Duff here. I was considering My World the other day. And was searching for A Reason to be Me. Sure, I'm meant to chase Squirrels and Rabbits. And play with Mom. You already know Part of what I Do is help Mom expand her Exercise Routine. (I have been very successful in that area.) Living unstuck.
But My Pride and Joy has always been to Inspire Others. Help Them to do Their Best. To be Their Authentic Self. One powerful situation happened many Years ago. Mom and I were working with A Client. She described Her Struggle with Life's Challenges, then looked at Me and Said, "I can't let Him down. We're a Team. I've got this." Can You imagine? As Small as I am, I was the Leader of the Pack for Her. And We made it. Living unstuck.
How about You? Are You challenged by Life's many Changes? Or are You going with the Flow? I say: If You're the former, rather than Spinning in the Eddy of the White-Water rapids, Look for Support. It will be There for You. And if You're comfortable with these Many Changes, Be a Light for Others. And I'm right there with You. Living unstuck. #unstuck-living#inspiration