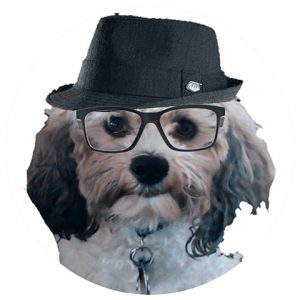 Duff here. Over ten years ago, Mom broke Her wrist. (Clumsy, but loveable, I say.) I figured Something was up, for Someone Else brought Me home after Her accident. I waited patiently for Her to Arrive, and knew when I saw Her: She had a Major problem. She was temporarily unable to pet Me the way She always did. Feeding Me was a Challenge, but She managed. She knew what This Pup's Priority was. Living unstuck.
But I helped! When Mom finally persuaded the Doctor to let Her Walk outside? It was My Time to Shine. Very slowly, We ventured down the stairs. Then We started down the Road. It was February, and very cold. When We would reach a patch of snow and Ice on the ground, I would watch out of the corner of My Eye and make Mom slow way down. Once past the Obstacle, We picked up the pace. I helped! That's living unstuck.
How about You? Have You helped Someone in need? Or been the Recipient of Some Assist? I say: Be of service. Lend a Hand. Support a Friend. Or even give a boost to a total Stranger. Take it from Me: You'll feel Great for doing so. Live unstuck. #unstuck-living#help-others
If I cannot do great things, I can do small things in a great way.

—Martin Luther King, Jr.