Well . . . I already know I'm going to hell at this point . . . It's really go big or go home.

—kushandwizdom.tumblr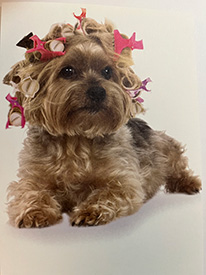 Duff here. I loved My Aunt Mabel! She loved to go Out on The Town come the Weekend. She would join Her Friends and dance the Night away, skipping and hopping in time to the Music. One of Her Buddies was trained to be the Partner of a Dance Professional. They would gracefully weave in and out: She on Her Hind Feet and He in His Sparkly Costume. They often won contests and Extravaganzas. Being Good Sports, Mabel and Her Crew would bark Their Applause. Let's hear It for the Winners! Living unstuck.
As with All Women, Mabel had to Primp and Fuss before stepping out. She would carefully set Her Fur in curlers, for She wanted to look fashionable. Next was The decision as to the Right Collar. Sparkly or Shiny? Rivets or Plain? Such choices! Then came the Outfit. Fancy and Frou Frou? Leather? Cotton? The Color was important to her too. It needed to enhance Her Tawny Coat with its Chic Black Markings. You know how it is. But She looked so Elegant when ready to Go! Living unstuck.
How about You? Do you go Big or Go Home? Or do You stay at Home altogether? I say: Hit it! Gather up some Friends and head for the Night Life. They say You only go around Once. And I've found that to be true. Living unstuck. #unstuck-living#go-big-or-go-home