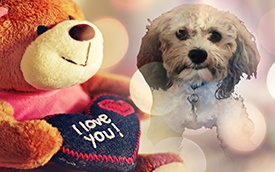 Duff here. Since Our Stay-At-Home order has been in place, I have been surprised at People's comments about "having the time to talk Now." Comments of a 14-year-old girl saying She could actually Talk with Her Mom. No phones. No TV. Just talk. Or the husband and Wife who got out a Jigsaw Puzzle, and remembered what They enjoyed about each Other. Just being Together was enough. Laughter. Fun. Or the Whiz kid who kept Winning Board games when Playing with the Family. Lots of chatting then, for sure. Living unstuck.
Mom and I have Regular Conversations. Ongoing, They are, for We need to be in Touch. That is unless I'm at Doggy Day Camp. Then She's on Her own. I imagine Her pining away, wishing I was Home. (I've heard She vacuums furiously during that Time, for I am Terrified of Those Contraptions. Could chew me up, You know.)
The Funniest Thing She says when She leaves Our Place is: "I'll be back soon, Duff." All I hear is "blah-blah-blah, Duff." But I trust Her and know from Her Tone of Voice She cares about Me. And yes, She does always come back. That's living unstuck.
How about You? Do You chat with Your Pets? Or leave Them Be? I say: Converse. Chat away. It will be a Rewarding Experience for Both of You. Heartwarming and funny at the same time. Living unstuck. #unstuck-living#conversations
Does anyone else tell their pets, "I'll be back soon," when you leave the house or is it just me?

—childsupportcalculators.com