It's the first day of autumn! A time of hot chocolatey mornings, and toasty marshmallow evenings, and, best of all, leaping into leaves!

—Winnie The Pooh, Pooh's Grand Adventure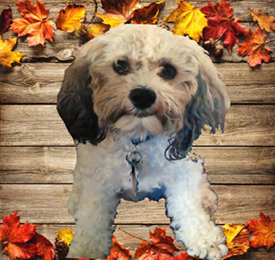 Duff here. Fall, My absolute Most favorite time of year, is here! My Friend, Pooh Bear, speaks of Hot Chocolate (Mom says that a no-no for Me as a Dog) but I can relate to Toasty marshmallow evenings. Once, Mom let Me taste an ooey-gooey Marshmallow. It was Sweet and yummy. The taste stayed with me for Days, for I got the confection on the Fur around My Muzzle. Mom tried to gently Wash it off, but I kept backing away. I kinda liked that Lingering leftover flavor. Living unstuck.
As a puppy, I was also big on launching Myself into Piles of leaves. I had Neighbors who would rake Them up just to watch Me do My Thing. I would back up like a High Jumper. Then run like crazy to take a Flying Bound into the Air, coming down in that Pile of softness. Recognizing My Prowess, They would even applaud. Can You imagine? That's living unstuck.
How about You? Are You celebrating the Autumn season? Or beginning to Dread Wintertime? I say: Live for the Day. Enjoy the Warmth of the Sun and the Striking Colors of the changing Foliage. You can even join Me and jump into a pile of Leaves. That is, if Those around You will allow it. Above all, live unstuck. #unstuck-living#first-day-of-autumn